Ed Gordon Deep Dives The Controversies Surrounding The Reparations Movement
BET News iconic anchor returns to the network in the next 'America in Black' episode.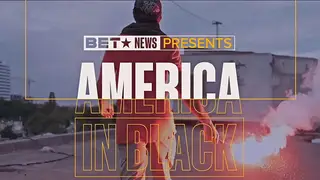 A San Francisco reparations committee caused more than a few eyebrows to raise when it recently recommended packages that include a $5 million lump sum payment to each qualified Black resident as compensation for generations of systemic racial discrimination.
If the progressive city acts on the proposal, San Francisco will become the first major U.S. city to fund reparations.
Conversations about how to redress slavery and years of government sanctioned racial discrimination, as well as recovering stolen Black-owned property are happening in Congress, state capitals, city councils and living rooms across the nation.
With the issue bubbling under the surface, former BET News anchor Ed Gordon takes a deep dive into reparations on the next episode of Black in America, which airs April 2 across BET and CBS platforms.
"This is a story worth telling because what we've seen over the course of hundreds of years that African Americans have been here is a people that never got their just due for building this country," Gordon told BET.com, ahead of his return to the network after an 18-year hiatus.
In this first piece of a two-part article, BET.com previews Gordon's segment on the explosive issues surrounding reparations and the fight of Black families for land reparations.
Part of Gordon's segment on the monthly one-hour newsmagazine show, which launched in February, examines the reparations movement at the federal, state and city levels.
As San Francisco officials consider $5 million reparation payments, California lawmakers await a final report from a state reparations task force that has estimated Black residents could receive more than $223,000 in compensation, as well as other non-monetary benefits.
Direct cash payments to African American descendants of slaves is controversial. But compensation can take different forms, including academic scholarships and tax breaks.
Evanston, Ill., a Chicago suburb, in 2021 became the first city to make reparations available to Black residents. There are no direct cash payments involved. Compensation for slavery includes funding housing programs for certain residents of the city.
"I think there has to be some kind of redress to African Americans. Over the years, we have obviously been put behind by virtue of discrimination. I don't know, quite frankly, what that is. I don't know what's going to be the best course of that return," Gordon said, adding that committees are studying the best and most economically feasible approach.
Gordon interviews Democratic Texas Rep. Sheila Jackson Lee, who is among congressional lawmakers leading the reparations effort at the federal level. In 2021, Jackson Lee introduced H.R. 40, a bill that would create a commission to study and develop reparations proposals. Meanwhile, New Jersey's Democratic Sen. Cory Booker has introduced a similar bill, S.40, in the Senate.
Eligibility is another thorny issue. Last year, the California reparations commission voted 5-4 to limit compensation to the descendants of free and enslaved Black people living in the United States in the 19th century.
That means Black Californians descended from the Caribbean or African immigrants would be ineligible to receive reparations. But the history of slavery is complex in terms of proving lineage, Nkechi Taifa, director of the Reparation Education Project, told CBS News. Ancestry is not easy to document, partly because slave owners frequently moved their enslaved people among plantations in the United States, the Caribbean and South America.
Gordon said some of the controversy over eligibility is "a smokescreen" that sidetracks the reparations movement. But he recognizes that at some point, who gets paid must be decided. That's one of the issues for reparations commissions, which he hopes to see at the national level.
In examining reparations across the board, Gordon's segment mainly delves into the battles Black families are fighting to recover property.
Dr. Rashawn Ray, a senior fellow at The Brookings Institution, told Gordon that land has been central to the discussion of reparations since the broken promise of 40 acres and a mule.
In this case, Hansberry v. Lee, Anna M. Lee and other neighbors sued in 1937 to stop the Hansberry family from moving into their white Chicago neighborhood based on the homeowners' discriminatory covenant. The Supreme Court sided with Hansberry on a technicality.
Carl Hansberry's descendants are now trying to reclaim his rental properties that they say the Southeast Chicago Commission took from him by abusing eminent domain laws, according to a Change.org petition.
He also interviews the descendants of Charles and Willa Bruce who successfully reclaimed the family's beachfront property from Los Angeles County, Calif., after a prolonged battle and sold it back to the county in January for $20 million.
In 1912, the couple bought the Manhattan Beach site and developed a resort that served vacationing Black families at a time of widespread racial discrimination, The New York Times reported. The property was informally known as "Bruce's Beach." Twelve years later, local officials condemned the property, paying the Bruce's a fraction of its value, and said it was needed for a public park. But it was left undeveloped for more than 30 years.
The next episode of America in Black airs April 2. It is available across BET and CBS' platforms, including BET+ and the CBS News Streaming Network.