On Cheating Hall Passes and the Pressure to Hold On to Your Man
How far would you go to keep your relationship intact?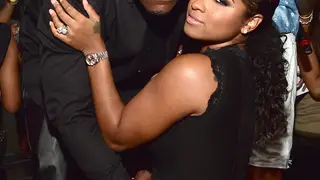 How many passes would you give your man to appease him?
When asked if he ever cheated on Wright, Memphitz replied, "She gives me eight days a year to do what I wanna do — no questions asked."
Toya clapped back on Twitter, claiming that the show's producers edited out her response to this, but she hasn't really denied the existence of the agreement or explained her reasoning for saying yes to this. 
And I hear you all. This sounds absolutely ridiculous, but before we start judging them, it's important to point out that while we have been taught that monogamy is the only way, the normal way, normal is different for different people. Relationships are complicated and aren't always unions between two people — and I believe that's OK if that's what the two people involved truly want.
For example, I have a friend who, for a range of reasons, has an open relationship with her partner. They love each other and are committed to one another, but believe that monogamy isn't natural (for them). They have set rules in motion, they don't really date these other people and they use condoms with their outside partners. This is a decision that they have both agreed on, they both partake in it and, to be quite honest, they seem happy with it.
I may not fully understand it, but if they like, I love it.
But I have a sneaking suspicion that this particular cockamamie hall pass agreement is less about two consenting adults and more about a desperate woman trying to hold on to her emotionally stunted man-child of a husband by any means necessary.

While some folks want to come for Wright, I don't. I actually empathize with her, because I get it. As Black women, we aren't defined by our own merit and talent — we are defined by whether or not we have a man. This week, even the queen of Shondaland herself Shonda Rhimes admitted to NPR that despite all of her success, her family seemed more impressed with her when they thought she was getting married:
"I have never gotten so much approval and accolades and warmth and congratulations as when I had a guy on my arm that people thought I was going to marry…. It was amazing. I mean nobody congratulated me that hard when I had my three children. Nobody congratulated me that hard when I won a Golden Globe or a Peabody or my 14 NAACP Image Awards. But when I had a guy on my arm that people thought I was going to marry, people lost their minds like Oprah was giving away cars. It was unbelievable. … I was fascinated by it because I thought, like, I am not Dr. Frankenstein, I didn't make this guy — he just is there. Everything else I actually had something to do with."
This type of mentality Rhimes describes is infuriating, because once everyone sees you with this "prize," the pressure to keep him only intensifies. Ladies, please raise your hand if you've been told by family members and/or friends that "you better make him a plate" or "hop on it whenever it's up" or "submit to that man" if you want him to stick around. Or my personal favorite, "What you won't do someone else will."
Yeah, that's what I thought.
And while I know plenty of relationships that consist of mutual respect and true love, I know a lot that aren't. And it seems that way too often relationships are less about a woman's needs and happiness and more about serving and satisfying her man, even if that means disregarding your own values and comfort level.
And ironically, you are dammed if you do, damned if you don't. While Wright is being dragged for doing what society tells her to do, Halle Berry is also being dragged for doing the exact opposite. All the while, men walk away pretty much unscathed.
This is why you have to do YOU.
Despite what anyone says, it's OK to put your foot down and walk away from relationships that ask too much of you. And if you think that's me promoting failure, you're wrong. The real failure is giving up so much of yourself for the sake of being loved by someone who doesn't really deserve you in the first place.
The opinions expressed here do not necessarily reflect those of BET Networks.


BET.com always gives you the latest fashion and beauty trends, tips and news. We are committed to bringing you the best of Black lifestyle and celebrity culture.
(Photo: Prince Williams/FilmMagic)