US Virgin Islands AG Fired After Suing JP Morgan Chase Over Alleged Link To Jeffrey Epstein
The bank was accused of facilitating sex trafficking on the U.S. territory.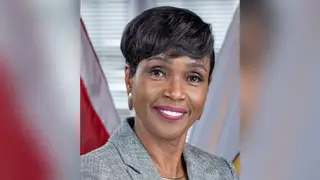 The Virgin Islands Attorney General Denise George was fired days after filing a lawsuit on Dec. 27 against JPMorgan Chase for allegedly helping Jeffrey Epstein finance the sex-trafficking of girls and women.
The Associated Press reports that Gov. Albert Bryan Jr. did not explain his reason for removing the U.S. territory's top prosecutor. In a statement on Sunday, Bryan said only that he's replacing George with Assistant Attorney General Carol Thomas-Jacobs.
According to the lawsuit, the bank "knowingly facilitated, sustained, and concealed the human trafficking network operated by Jeffrey Epstein from his home and base in the Virgin Islands, and financially benefited from this participation, directly or indirectly, by failing to comply with federal banking regulations."
In 2019, Epstein, a wealthy financier, was found dead in a New York jail cell from an apparent suicide after his arrest on sex-trafficking charges. He faced a federal trial in Manhattan on charges relating to alleged sexual misconduct. His death came a day after unsealed documents revealed the extent of his alleged sexual abuse of young women in Florida, New York and the Virgin Islands.
"Human trafficking was the principal business of the accounts Epstein maintained at JP Morgan," the lawsuit alleged. "JP Morgan turned a blind eye to evidence of human trafficking over more than a decade because of Epstein's own financial footprint, and because of the deals and clients that Epstein brought and promised to bring to the bank."
The lawsuit also alleges that the bank concealed "wire and cash transactions that raised suspicion of a criminal enterprise whose currency was the sexual servitude" of women and girls, The Guardian reports
JPMorgan Chase declined to comment on the lawsuit when asked by the two news outlets. But according to The Guardian, a source familiar with the lawsuit said the bank "ended its relationship with Epstein long before his ongoing misconduct became known."
In November, Epstein's estate reached a $105 million settlement with the U.S. Virgin Island's government in a case involving his sex trafficking and child exploitation on the islands.