UPDATE: Jeffrey Epstein, Billionaire Charged With Sex Trafficking, Allegedly Kills Himself
Officials say he hanged himself.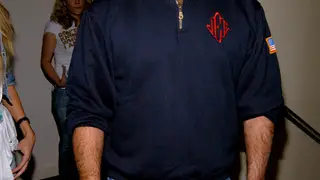 Jeffrey Epstein, the disgraced millionaire facing federal sex trafficking charges, died early Saturday (August 10), from an apparent suicide.
Three law enforcement officials told ABC News that Epstein hanged himself in his Lower Manhattan prison cell. He was reportedly transported in cardiac arrest at 6:39 a.m. from Metropolitan Correctional Center to New York Downtown Hospital.
The 66-year-old was scheduled to stand trial next year for allegedly sexually abusing dozens of minors in both New York and Florida. 
His death comes just three weeks after he was found unresponsive in his jail cell with marks on his neck that authorities believed were self-inflicted. He had been on suicide watch since the July 23 incident.
Over the last 48 hours, the name Jeffrey Epstein has been plastered on the front page of every news outlet and has been a hot topic of conversation. 
As details of the case continue to unfold, it's become abundantly clear Epstein's alleged crimes, which date back to 2001, were grossly mishandled by our justice system.
Who Is Jeffrey Epstein?

After starting his career as an options trader for Bear Stearns in 1976, Epstein worked his way up the financial ladder until he was able to form his own company, J. Epstein & Co., which was later renamed Financial Trust Co.

According to a Vanity Fair profile, Epstein was the primary investor and money manager for Leslie Wexner, the founder of Limited Brands and the owner of companies such as Victoria's Secret, PINK and Bath & Body Works.

Epstein's wealth positioned him among a network of powerful men including Donald Trump and Bill Clinton.

"I've known Jeff for 15 years. Terrific guy," Trump said in a 2002 interview with New York magazine. "He's a lot of fun to be with. It is even said that he likes beautiful women as much as I do, and many of them are on the younger side. No doubt about it — Jeffrey enjoys his social life."

What Are The Allegations Against Epstein?

In 2005, Palm Beach police interviewed five alleged victims and 17 witnesses who claimed Epstein would bring middle school and high school girls to his Florida home to give him "massages." During the investigation, several of the girls told police Epstein would use sex toys on them while he got a "massage."

One victim said she was paid to have sex with one of Epstein's female assistants, while several girls said Epstein touched their vaginas while he masturbated.

Epstein allegedly paid the girls $200 to $1,000 per "massage" in his residence, where he would receive three "massages" a day, according to a housekeeper.

Palm Beach police sought to have Epstein arrested and charged with four counts of unlawful sexual activity with a minor and lewd and lascivious molestation in spring 2006.

How Did Epstein Get A Plea Deal?

In 2008, Epstein eventually pleaded guilty to state charges of procuring a person under 18 for prostitution and felony solicitation of prostitution.

At the center of Epstein's plea deal was Alexander Acosta, who was the United States attorney in Miami at the time and is now President Trump's labor secretary. 

As part of the non-prosecution agreement, Epstein signed with Acosta's office, the full extent of his crimes and the number of victims assaulted were hidden and sealed in an envelope only seen by a judge.

In the end, Epstein was registered as a sex offender in Florida and served 13 months of an 18-month sentence, most of the time served was on work release in a private wing of a county jail.

"Therefore, on authority of R. Alexander Acosta, United States Attorney for the Southern District of Florida, prosecution in this District for these offenses shall be deferred in favor of prosecution by the State of Florida, provided that Epstein abides by the following conditions and the requirements of this Agreement set forth below," a paragraph in the plea agreement read.

Why Is Epstein Being Charged Now?

Although Epstein entered a plea deal, the agreement was only made applicable to the Palm Beach area. Several women have come forward to detail instances of sexual abuse that occurred in New York.

Jennifer Araoz, 32, told NBC News a woman who worked for Epstein propositioned her outside of her New York City high school when she was 14. 

After a series of casual visits to Epstein's home with the woman, Araoz said she eventually met Epstein at his home alone. During her visits with Epstein, Araoz said she was manipulated into giving Epstein massages that ended with him masturbating.

Araoz said the massages progressed into a traumatizing experience of sexual violence in 2002. 

When she was 15 years old, Araoz was massaging Epstein when he allegedly tore off her panties and raped her. "He raped me, forcefully raped me," Araoz told NBC News. "He knew exactly what he was doing."

"I was terrified, and I was telling him to stop. 'Please stop,'" Araoz, added.

Over the years, Epstein's case has been re-examined after the Justice Department investigated how federal prosecutors mishandled the weight of the accusations. 

In February, a federal judge ruled Florida prosecutors had broken the law in 2008 by not keeping Epstein's victims informed of the plea deal.

Epstein is charged with sex trafficking and sex trafficking conspiracy and faces a combined maximum sentence of up to 45 years in prison if convicted.

"To us this indictment is essentially a do-over," he said. "This is old stuff. This is ancient stuff."

What Will Happen To Alex Acosta?

On the heels of Epstein's arrest, Acosta has faced new calls to resign from people within and outside of the Trump administration due to his involvement in the original case.

While speaking with the press this week, Acosta argued that the plea agreement reached with Epstein was the toughest deal available due to the complex nature of the case. 

Acosta said he was "pleased" to hear a new case is being brought against the financier.

"The crimes committed by Epstein are horrific, and I am pleased that NY prosecutors are moving forward with a case based on new evidence," Acosta tweeted Tuesday.

"With the evidence available more than a decade ago, federal prosecutors insisted that Epstein go to jail, register as a sex offender and put the world on notice that he was a sexual predator," he continued. "Now that new evidence and additional testimony is available, the NY prosecution offers an important opportunity to more fully bring him to justice."

Acosta appears to have no intention of resigning.