The Designer Behind The Louis Vuitton Inspired Beads Just Broke The Internet
All he wants is for Virgil Abloh to give him a shot.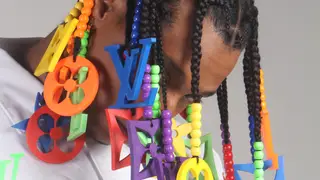 This week, the 27-year-old rapper and graphic designer from Columbus, Ohio took to social media posting a photo series where he modeled a jumpsuit printed with rainbow color Louis Vuitton logos, sporting box braids and matching 3D printed charms at the ends. His caption read, "Hey @virgilabloh can I earn an internship? I have ideas!" And let's just say, the Twitter-verse went nuts.
BET caught up with Magnus and asked what inspired him to create these beautiful beads. He said, "What inspired me is black representation in fashion and pop art, homage if you will to designers like Dapper Dan and Virgil Abloh, and an ode to black carefree creatives such as Kelela and Solange!"
Although the shoot only took approximately 2 hours to finish, it was a 6-month long process for the young designer to complete the 3-D beads.
Since posting the photo of his over-the-top look, Magnus has received more than 4K retweets and 18K likes. On Thursday, he also tweeted that Marc Jacobs (who was Louis Vuitton's creative director for 16 years, until 2013) approved of his design.
We have to agree with the fans. Since Virgil is now Men's Artistic Director at Louis Vuitton, he should give this young creative an internship, the student deserves it! And let's be honest, this beats any regular resume and cover letter you've ever come across.
The photos were shot by Mystic Gooden, 3-D done by Eat Crow Studio, and Hair by Ciera Jackson.