Literally Everyone Is Slamming Ben Carson for Suggesting Slaves Were Immigrants Who Got Paid Less
Is this man proof "Get Out" was actually a horror documentary?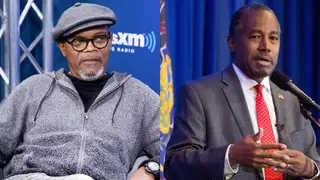 While speaking to the Department of Housing and Urban Development on Monday, Ben Carson made a controversial statement that some felt likened slaves to immigrants

"There were other immigrants who came in the bottom of slave ships, who worked even longer, even harder, for less, but they too had a dream that one day their sons, daughters, grandsons, granddaughters, great grandsons, great granddaughters might pursue prosperity and happiness in this land," said Carson. "And do you know of all the nations in the world, this one, the United States of America, is the only one big enough and great enough to allow all those people to realize their dream. And this is our opportunity to enhance that dream."

Immediately Samuel L. Jackson tweeted a response with his favorite word

Which prompted the roasting festival of Ben Carson to commence

At this point, Trump and his administration has almost produced too much material for us to go after

To review for Mr. Carson, slavery was one of the most horrific events to ever blemish American history – not to be confused with immigration

Hey Ben, does the phrase 'sunken place' sound familiar to you?