Report: Lamar Odom's Family 'Pretty Sure This Is Goodbye'
His loved ones have gathered at his bedside to pray for a miracle.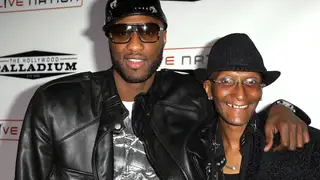 Though Lamar Odom's loved ones are holding out hope for his recovery, they have gathered at his bedside in preparation for the worst. "They're pretty sure this is goodbye, but they're praying for a miracle," a source close to the family tells People. "They know that God has the power to heal him, but that's really the last hope at this point. This is really bad."
The former NBA player was hospitalized on Tuesday following what we now know to be a three-day drug and alcohol bender at a Nevada brothel. Odom reportedly had "significant levels" of cocaine and opiates in his system when he was brought in to the Sunshine Hospital in Las Vegas, and had taken 10 tablets of herbal Viagra — a drug the FDA has cautioned to be "extremely dangerous" — in three days. According to TMZ, Odom racked up a bill of $75,000 at the brothel in 72 hours.
Odom has not regained consciousness since he was found passed out on the floor of his room at the Love Ranch South by two sex workers. His estranged wife, Khloé Kardashian, is reportedly being "forced to make all the medical decisions" since she's still legally married to the one-time athlete, though she has been "completely inconsolable" since learning of her ex's condition.
Members of the Kardashian-Jenner clan have been making their way to the hospital to be with Lamar, including Khloé's sister Kim Kardashian and mother, Kris Jenner. The Reverend Jesse Jackson also paid a visit, along with Odom's Lakers teammate Kobe Bryant, who left a pre-season game in the third quarter on Tuesday to be at Odom's side.
Odom's father, Joe Odom, his ex-wife, Liza Morales, and their two kids, Destiny and Lamar Jr., have also joined the hospital vigil after Khloé made travel arrangements for them to fly in from the East Coast.
Kendall Jenner was the first of Odom's inner circle to break her social media silence, simply tweeting "please don't go." Kris Jenner and Odom's former brother-in-law Rob Kardashian later followed suit, asking fans for their prayers.
Watch a recap of the sad turn of events below: 

BET.com is your No. 1 source for Black celebrity news, photos, exclusive videos and all the latest in the world of hip hop and R&B music. 
(Photo: Noel Vasquez/Getty Images)