Pitbull Claims First Amendment Protection Against Lindsay Lohan
Lawyers for the Miami rapper file official response to actress's lawsuit.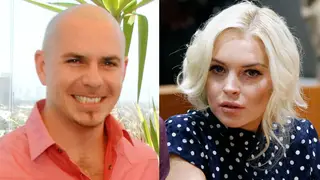 Thanks to a lawsuit from Lindsay Lohan, Pitbull has found himself the latest high-profile defender of First Amendment rights under the U.S. Constitution. The Miami rapper has cited constitutional law in his official response to a suit from the sometime actress, who claims a line from a Pitbull song that mentions her name in an unflattering manner has caused her "tremendous emotional distress."
The line in question comes from Pitbull's 2011 smash "Give Me Everything." "So, I'm tiptoein', to keep flowin', I got it locked up, like Lindsay Lohan," he rhymed.
Defending his right to use Lindsay's name on the track, Pitbull's lawyers say the free speech rights of the First Amendment have historically protected such usage, and that Lohan's case should be thrown out, lest the civil liberties of other artists become endangered.
"Sustaining Ms. Lohan's allegations would lead to absurd results: the use of a celebrity's name in any work of art — such as a song, poem or painting — would trigger liability," argues the defendant's court papers, according to The Hollywood Reporter. "Indeed, if Ms. Lohan is allowed to proceed with her claim, every recording artist could be gagged and prevented from expressing his or her thoughts in songs, including the other recording artists who have referred to Ms. Lohan in their songs but whom she has not sued."
Pitbull's lawyers even cite other artists who have similarly used Lohan's name in songs, including Eminem, who in 2009 rapped: "Hello Lindsay you're looking a little thin, hun'; How about a ride to rehab?"
Linday's lawsuit, filed last year, alleges the infringement of her publicity rights and claims the song was damaging to her standing as "an actress of good repute."
BET.com is your #1 source for Black celebrity news, photos, exclusive videos and all the latest in the world of hip hop and R&B music.