'Shark' Daymond John Files Restraining Order Against Former Contestants
The Fubu co-founder is being accused by the owners of Bubba Q's Boneless Baby Back Ribs of trying to take over their business.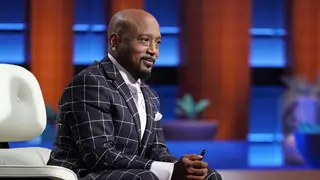 Daymond John is seeking a temporary restraining order against three former Shark Tank contestants who accuse him of attempting to take over their business, the Los Angeles Times reports.
Al "Bubba" Baker, his wife Sabrina, and their daughter Brittani are owners of Bubba Q's Boneless Baby Back Ribs, which appeared during season 5 of the reality show. The family claims that John and members of his executive team "deprived them of the profits from potentially lucrative partnerships" and tried to gain full control of their restaurant.
The Bakers described their time on Shark Tank as a "nightmare" and questioned their business arrangement with John and Rastelli Foods Group, a meat manufacturer that produces the meat for the Baker's ribs.
Zach Rosenfield, a spokesperson for John, said that the Bakers failed to rectify the situation and forced them to file a restraining order due to the family's public attacks.
"After repeated attempts to give the Bakers the ability to correct their violations, it is unfortunate that it has come to this," Rosenfield said in a statement. "This temporary restraining order is due to the Bakers' blatant actions to undermine a business partnership and the legal parameters they agreed to four years ago. Their belief that they can unwind poor business decisions through slanderous social media posts and articles will no longer be tolerated."
In his complaint, John said that he "is operating at an overall financial loss from his business dealings with Defendants, while Defendants acknowledge they have reaped at least $659,000 in profits alone."
Along with John, Rastelli Foods Group is also requesting a restraining order against the Bakers, saying the family made "false" and "defamatory" statements about the company.
Per the report, after agreeing to sell 30 percent of their company for $300,000 to John, the Bakers claimed that the FUBU co-founder changed the terms of the deal to $100,000 for a 35 percent stake. They also accuse John of controlling the company's bank account and alleged that their deal with John and Rastelli Foods was flawed from the start.
Baker said he was not allowed to participate in business meetings and was unaware of the financials of the business. Since going into business with John, the Bakers contend that they have only received 4 percent of the $16 million in revenue that the business has produced.
According to the Bakers, it is their right to air their grievances against John and Rastelli Foods in public.
"It is our belief that Rastelli Foods and Daymond John have breached the settlement agreement by excluding Al from participation and collaboration regarding the product," the family wrote letters sent to a New Jersey judge.
"We have reason to suspect fraudulent and illegal activities in the accounting practices between Rastelli Foods and Daymond John. We have reached out to governmental agencies to investigate this matter, as we believe it is in the best interest of the public."