FUBU Co-Owner Daymond John Thinks 'March Madness Is 'Modern-Day Slavery'
The businessman argued students make "zero" from the millions earned.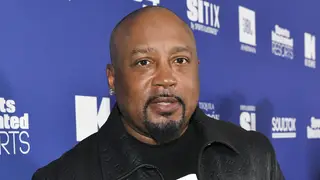 FUBU co-founder and successful businessman Daymond John recently called out the NCAA and their March Madness tournament, calling the annual sporting event "modern-day slavery."
During an appearance on TMZ Live Friday (Mar. 18), the Shark Tank star stunned host Harvey Levin and Charles Latibeaudiere with his assessment of the organization. However, John explained it wasn't without reason, citing an alleged television deal the NCAA has with CBS and Turner, which the investor said was $850 billion last year.
ABC News reported that both sides agreed on an extension six years ago that pushed their agreement to 2032, with the per year earnings jumping to $1.1 billion by 2025. John explained that when considering the funds generated from these sporting events, it only further widens the gap between the schools and their players.
"TV rights in 2021 alone made over $50 million; sportsbooks are going to gamble somewhere around 10 billion for March Madness, and that has nothing to do with the merch; what New Orleans is going to make," John explained. "Other alums who are donating to the schools and selling more entry levels to the schools and the players make nothing — zero off all that."
He added, "I think this is modern-day slavery, and they're just giving them a little bit of a crumb."  Although John acknowledged that students receive compensation often in the form of scholarships and the interim policy that allows student-athletes to monetize their name, image, and likeness (NIL), it still isn't enough.