See the 10 Most Affluent African-American Neighborhoods in America
Life seems good here.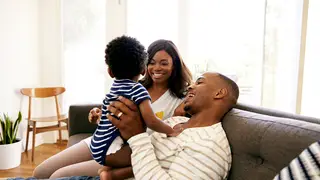 Recently, Mitchellville, Maryland, made headlines because it is currently under investigation by the governor of the state. The Republican governor, Larry Hogan, wanted to understand the rise in graduation rates and decrease of crime for this community. The governor and his team suspect cheating on test scores and padding of the percentage numbers, but the major source of suspicion is that this community is both affluent and Black. In fact, it ranks on the list of the 10 most affluent Black communities in America. It's also a little town that we've never heard of. Of course our curiosity got the best of us and we had to find the other places where Black people are living and thriving. Check out the Rich List of Black communities across the United States. See if you can spot your neighborhood on here.
View Park-Windsor Hill, California

This upscale Los Angeles area is known as one of the wealthiest African-American communities in America. It currently has the largest Black population in LA. The annual family income is roughly $87,043 to $159,168.  

Baldwin Hills, California

Known as the "Black Beverly Hills," it's home to affluent black doctors, lawyers, athletes and actors. You may remember the original TV series Baldwin Hills featuring the lives of the privileged teens from this district.

Ladera Heights, California

This influential community is divided by Lower and Upper Ladera to distinguish old and new African-American money in this area. Located near Culver City and also known as the "hidden neighborhood," its residents remain low-key about their affluence.

Mitchellville, Maryland

An upper-middle-class African-American community where Black people make up 85.4 percent of the population and have a median household income at $109,184. 

Fort Washington, Maryland

You might know this area as very historic. It is residence to many families and young professionals and also borders the Washington, D.C., area.

Kettering, Maryland

This prosperous upscale suburban community in Prince George's County is 90 percent African-American. 

Woodmore, Maryland

A residential community of Prince George's County with a large population of affluent black families. The household income is around $103,438.

Friendly, Maryland

Located in Prince George's County, it had the largest amount of Black-owned businesses in 2007. It's clear how this African-American community is able to rake in the cash!

Hillcrest, New York

Located in Rockland County, this area has not always been predominantly African-American. But over the years, it has become known as a well-off Black community with a median family income of $76,960.

Uniondale, New York

You can find this community in the suburbs of New York City near Long Island. Home to actress Sheryl Lee Ralph, who was a guest host on the popular weekly music series Soul Train in the mid-'90s, starred in the sitcom Moesha and was part of the original cast of Broadway musical Dreamgirls (1981).