Kelly Price Reminisces on 'Mo Money Mo Problems'
Singer recalls her days at Bad Boy, writing chart-topping hits for Diddy and Biggie.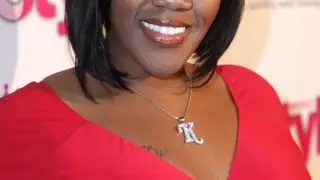 "When I was asked to do 'Mo Money Mo Problems,' I was already a Biggie fan, Ma$e was the new guy and I was the writer doing all the songs," Price recalled.
Although she knew it was a great song, she had no idea the levels of success it would reach. "It was the song of the year … it literally was a game changer," she said. The single, off Biggie's Life After Death album, topped the Billboard Hot 100 for two weeks in 1997, and the title has become a pop culture reference, a nod to the Bad Boy lifestyle, used in TV shows and songs.
"I actually miss those days … Back then, we would all just come together, it was all about the music and how many times we could see our names on the Billboard charts," Price continued. "We broke a lot of records ... there were three and four times where I got to see my name in line in the same Top 10 charts."
Her new single, "It's My Time," reflects that brand of R&B music, one that was born out of hip hop, Kelly explained. "You got the beat, you got the bass thumping," Price described of her latest track.
"I really embrace and love and miss what I call the 'glory days of R&B,'" Price said. "To me R&B and hip hop were one ... Literally you could take the same song that a guy or girl sang on and give it to a hip hop artist and they could literally, they could co-exist in the same space and never miss a beat."
In the spirit of continuing to break records, Price is planning for a June 3 release of her seventh studio album, Sing Pray Love, Vol. 1: Sing, and is settling into her blossoming career in front of the TV camera with her reality show, Too Fat for Fame.

"My new show is taken literally from my life story," the R&B Divas LA star said. "For all the things I did behind the scenes, it took me a long time to come to the front as an artist because the industry said I didn't meet the standards of beauty."
Check the video below to see what else Price said about her days at Bad Boy and her future on the silver screen.
BET.com is your #1 source for Black celebrity news, photos, exclusive videos and all the latest in the world of hip hop and R&B music.
(Photo: Ben Horton/Getty Images for Life & Style)