Fans Streaming into MetLife Stadium for Super Bowl
MetLife Stadium starts to get packed as special teams hit the field to warm up before kickoff.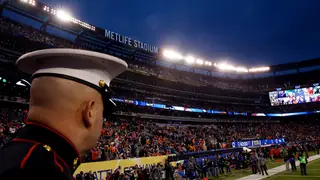 EAST RUTHERFORD, N.J. (AP) — Fans sporting the team colors of Denver and Seattle streamed into MetLife Stadium for the Super Bowl on a mild winter evening Sunday, with the only minor disruption for commuting fans coming after a few people collapsed when the crowds overwhelmed a New Jersey train station.
Emergency workers had to push through the overheated crowd at Secaucus Junction to treat a handful of fans who collapsed in the chaos. Lines began moving again at about 4 p.m. Fans had to go through a security screening at Secaucus before boarding shuttles to the stadium.
As of 4 p.m., more than two hours before kickoff, about 22,000 people had already taken the shuttle train to the stadium to watch the Seahawks play Broncos, an all-time ridership record, according to NJ Transit.
"It was kind of a bottleneck," NJ Transit spokesman William Smith said. "A number of trains arrived at once."
Some trains were then held back at Penn Station to ease the traffic flow, Smith said.
"The NFL did nothing to help me," said Jordan Baskett, of Ann Arbor, Mich., who was on crutches and had to hop up each stair on one foot because the escalator wasn't working at Secaucus.
He said he had made pre-arrangements with an NFL manager to be able to get off the train. But amid the crowd, "they told me there was no guarantee," Baskett said.
David Bevens, Jr., 39, of Seattle, a longshoreman draped in Seahawks blue, was sweating as he stood in the Secaucus station after leaving the train. He said his train sat in Penn Station for half an hour before it started moving.
But he wasn't letting that ruin his day.
"Just being here feels good," Bevens said with a smile. "And as long as I make it to the game on time, I'll be happy as a clam."
Security teams with machine guns and bomb-sniffing dogs patrolled the platforms in both Secaucus and at New York City's Penn Station, where dozens of volunteers wearing gold jackets guided fans to Super Bowl-bound trains.
"Fans from the two teams are talking to each other, discussing the game. There's no animosity," said Joe Roscoe, who was selling merchandise from both teams in the middle of the concourse at Penn Station. "These fans are real nice to each other, they get along, they're good-natured. There's none of this in-your-face stuff."
Earlier congestion at the Lincoln Tunnel, which is the major route to the stadium from New York City, eventually cleared and there were no delays.
The parking lot at MetLife Stadium opened at noon Sunday. Those who drove were allowed to bring their own food and beverages, but they were not allowed to have grills for tailgating.
BET Sports News - Get the latest news and information about African-Americans in sports including weekly recaps, celebrity news and photos of your favorite Black athletes. Click here to subscribe to our newsletter. 
 (Photo: Ronald Martinez/Getty Images)