Tiffany Haddish Recalls Turning Down $10 Million Endorsement For Instagram Post
The actress says the product made her "feel like sh*t.".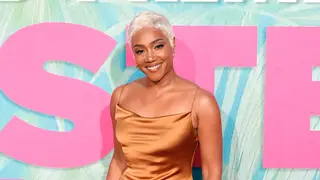 Tiffany Haddish is all about keeping her brand cohesive – even if it means turning down a multimillion endorsement offer.
In a Cosmopolitan cover story published on Thursday (August 11), the Girls Trip actress revealed that she once turned away a multimillion-dollar payday because the substance of the offer made her "feel like s**t."
"I've turned down, s**t, I've turned down $10 million just to do a post because it didn't represent my brand," she told the magazine. "I turned down $10 million because my soul is worth more than that to me. My spirit, my integrity, how I want to be able to look at myself in the mirror every day."
Haddish added that she'd "rather be flat broke" than do something that doesn't speak to who she is – a mindset she says extended to her movie career.
"At first with acting roles, I used to just be like, 'What seems like fun?' Now it's, 'What seems like fun and what resonates with my soul?'" she explained. "Then I ask, who else is working on it? Will it be my friends? What I've noticed lately, though, is that casting has been coming to me first. So I've learned how to fight better too."
Additionally, Haddish notes it's been a "battle" to have people she wants collaborate with her on projects, despite her accolades.
"I kind of know what I'm doing," she said. "Give me an opportunity to make you richer, sir. I might not know how to keep a man, but I know how to make some money."
Read the full Cosmo cover story interview here.