It's Not Over: Tyrese Lays Into The Rock, And This Time It's On Video
He ain't happy.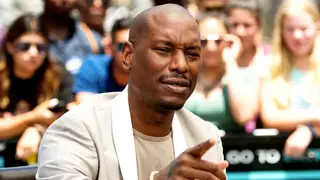 Tyrese has no plans to stop talking about Dwayne "The Rock" Johnson signing up for a Fast & Furious spin-off film, which set the next installment of the film back to 2020. This time, Tyrese has upgraded from social media and is now talking to TMZ.
Sitting in a luxurious white limo, Tyrese says to a TMZ reporter, "I wish he was releasing it at a different time." He also adds, "It appears that he's being selfish. It appears that he's so focused on furthering his own self interests. He's making decisions from the seat that he's sitting in." Tyrese closes with "It's f*cked up."
Watch the video below:
Can you imagine if Tyrese wasn't rich and famous and worked at a regular job like the rest of us? Everyday people lose jobs and get replaced. This man has a Fast & Furious check that is probably more than some of us make in a lifetime coming in 2020. Rich people problems!
See how this all started in the BET Breaks video, above.