'The Shield' Actor Who Murdered His Wife Is Finally Sentenced
Do you feel like Michael Jace got enough time?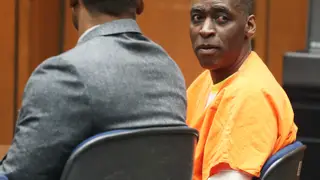 After being found guilty of second-degree murder for killing his wife, April Jace, two years ago, Michael Jace was sentenced to 40 years to life today in downtown Los Angeles court, ABC News reports.
The former The Shied actor pleaded not guilty, and told investigators that he did not mean to kill his wife in 2014, but just wanted to wound her. In the process, he also admitted to shooting April once in the back and twice in the legs.
The actor's 10-year-old son testifed, revealing that he heard his father taunt his mother prior to shooting her. While Jace, 53, did not take the stand, his lawyer, Jamon Hicks, told the jury that his client shot his wife in the "heat of passion," and believed she was having an affair.
The prosecutor assigned to the case, Tannaz Mokayef, also told the jury that the incident stemmed from April Jace wanting a divorce from the actor.
Get details on when it's time to leave a relationship ridden by domestic violence in the video, above.