SMH: Ja Rule Is Dragging 50 Cent's Son Into Their Age-Old Beef
Uh-oh...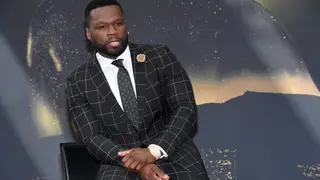 One of New York hip-hop's most ancient rivalries between rap OGs 50 Cent and Ja Rule became a spectacle on the internet last month when Ja shot a mouthful (or, finger-ful rather) at Fif via Twitter, reviving the decades-old beef.
But while the Murder Inc. emcee hurled harsh jabs then, he's aiming for touchier spots on 50 by recoiling words from Marquise Jackson, Fif's estranged eldest son.  
Ja took his shade for 50 to Instagram this time, posting a quote from Marquise's 2017 interview with Rap-Up where he revealed that his father's longtime rival influenced his hip-hop career aspirations.
"Ja Rule was probably one of the first to do it [rap and sing] and I listen to a lot of Ja Rule because of that," the quote reads.
Sprinkling more salt on the wound, Ja patted himself on the back for being "able to inspire [Marquise] and [his] dad," as he wrote in the caption and tagged Fif in. The post arrived just moments after the Get Rich Or Die Tryin' artist entertained his 17 million Instagram followers with a meme mentioning Ja Rule and his children as well. In the now-deleted post, 50 used his Power popularity among the world (and Ja Rule's kids, according to Fif) to mock him, showing one of the television show's main characters Ghost screaming "Nooo" at the top of his lungs.
"Ja Rule's kids asking him for the 100th time if they could watch Power," the meme read.
It's unfortunately unclear how much longer this tug-of-war will go on between the two before they both throw in the towel. Until they do, let's hope that they keep the kids off battlegrounds from here on out.
See Ja's latest piece of mind for Fif below.