YNW Melly Denied Bond, Awaits Retrial Over Double Murder
The rapper will remain in jail until his retrial begins on October 9.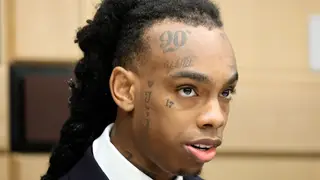 YNW Melly has reportedly been denied bond again before the retrial of his double murder case.
NBC South Florida reports that the rapper, born Jamell Demons, had his bond request denied by a judge on Friday (September 22). He will remain in jail until his new trial is scheduled to start on October 9.
Previously, Melly's legal team argued that his co-defendant, Corten "YNW Borten" Henry, who faces the same charges, has been granted bond and should be given the same treatment.
"After careful consideration, this Court finds that the State has met it burden of demonstrating that the proof of guilt is evident and the presumption of guilt is great," the judge's order read. "The jurors' inability to reach a unanimous verdict does not alter the nation or weight of the evidence of Defendant's guilt."
Leondra Phillips, the mother of Christopher "YNW Juvy" Thomas, one of YNW Melly's alleged murder victims, also spoke during the hearing via Zoom, saying she fears for her safety if Melly were to be freed.
"I don't think he should receive a bond," she told the court. "He's innocent until proven guilty, but he has money and I don't want anything to happen to me and my family. No bond, please."
According to WTVJ, the Broward County State Attorney's office confirmed in July that they would retry the case again and that both sides could refine their strategies.
The double murder trial of Melly, born Jamell Demons, ended on July 22 in a deadlocked jury. A unanimous verdict is required to convict or acquit a defendant charged with murder.
Judge John Murphy had twice asked the jurors to keep deliberating after they said they were deadlocked. But the jury came back a third time without a different result.
In July 2022, a Florida judge removed the death penalty as a possible sentence option for Melly. The rapper remains behind bars on double homicide charges.
Melly and Bortlen are accused of killing victims YNW Juvy and Anthony "YNW Sakchaser" Williams and attempting to stage the crime scene to resemble a drive-by shooting. Melly pled not guilty to the first-degree murder charges in March 2019. He later addressed his arrest in a since-deleted Instagram post that same year.
According to prosecutors, Ballistics tests show the victims were shot from inside the Jeep. But defense lawyers point to the fact that a gun was never recovered and assert Melly had no apparent motive for the crime.