Nelly Responds To Claim That He Lost $300K, Gave Person $100 Who Found It
The "Country Grammar" rapper took to the comments section on an Instagram post to give his thoughts.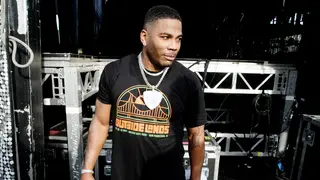 Nelly is now responding to the claims that after a woman found $300,000 in a duffle bag that the rapper lost — she received $100 when she returned it.
The "Country Grammar" rapper is denying the incident, full stop, saying that he never lost any money. Responding in the comments section of an Instagram post from the Neighborhood talk, which shows a video of a woman being made fun of by her friends for returning that is reportedly Nelly's, the artist says it's a lie.
"Cap…SUUUUUUUPPPPPEEEEEERRRR CAAPPP," Nelly wrote. "I didn't lose sh** idk what bag or who's bag they talkin bout but it d*** show wasn't mine."
In the video, viewers can hear a voice narrating the incident saying, "We up here at the bowling alley, she found Nelly bag, it had $300,000 in it."
Adding, "And guess what she do? She gave it back."
The person behind the camera later asks if the woman received anything for returning the missing items. They then point the camera to themselves now on the screen to say, "They gave her $100 f***ing dollars. … They gave her $100 for giving him back $300,000."
According to HotNewHipHop, the money in the duffle bag was found at Midtown Bowl in Atlanta, Georgia.