Random Beef Alert: Azealia Banks Unleashes Her Twitter Fingers on Sarah Palin
The levels of chill she does not have is unfathomable.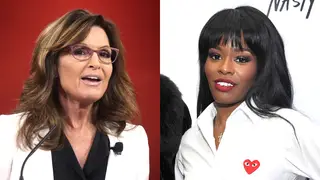 Azealia Banks is back in a social media whirlwind — for reasons outside of music, of course. This time around, her subtweet sparring partner was Donald Trump supporter Sarah Palin. It's an eyebrow raiser that shouldn't exist, but here we are.
After satirical news blog Newslo posted an article claiming Palin stated, "Slavery wasn't forced onto African-Americans, they accepted it willingly," Banks released her fury in a Twitter tirade. Reposts of her now-deleted, explicit tweets flooded timelines calling for the gang-rape of the former Alaska Governor by Black men, basically advising Palin not to knock "the swirl" before she tried some chocolate fudge.
Social media is the "clapback" hub it seems, as the Donald Trump endorser took to Facebook to respond to Banks's tweets stating this:
"No one has any idea what you're wigging out about in these bizarre, violent rants against me, but you're obviously not exercising enough intelligence to acknowledge you've been sucked into believe some fake interview in which I supposedly offered comments representing the antithesis of my truth."
"In this life, you're blessed to have been given an influential platform," where have we heard that before? (Banks 2014 Interview on Hot97). "Why don't we strengthen both our platforms and work together on something worthwhile."
Could there be a possible joint Trump endorsement in the near future? We hope not, but in the meantime, it's safe to say the Republicans aren't really down with the Broke With Expensive Taste tip, Azealia. 
(Photos from left: Alex Wong/Getty Images, John Sciulli/Getty Images for Nasty Gal)