Boston University Doctors Posthumously Diagnosed Former Super Bowl Champ Demaryius Thomas With Stage 2 CTE
Doctors also claimed his seizures compounded the condition.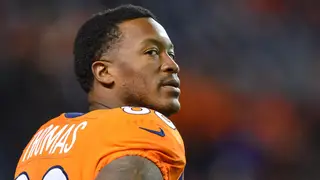 According to the New York Times, Boston University doctors posthumously determined that Super Bowl champion and retired wide receiver Demaryius Thomas suffered from Stage 2 C.T.E.
The publication published the findings on Tuesday (July 5). Doctors at the New England- based school also opined that the 33-year-old star athlete's diagnosis was compounded by seizures he had after a 2019 automobile accident.
"He had two different conditions in parallel," Dr. Ann McKee, the neuropathologist who studied Thomas's brain, suggested. The physician also explained that Thomas' seizures weren't mainly affiliated with the C.T.E.
Although a Georgia coroner in Fulton County has yet to determine Thomas' cause of death, doctors in Boston theorized that the 33-year-old passed away from seizures.
BET.com reported the former Denver Bronco player was found dead in his suburban Atlanta home's shower on December 9. Authorities notified his family. Roswell police officer Tim Lupo said that his cause of death  appeared to be from a medical emergency.
His cousin, LaTonya Bonseigneur, said, "He had been suffering from seizures for over a year, and we believe he had a seizure when he was showering.
A friend became worried after not being able to contact Thomas, who lived alone. The person got hold of the athlete's driver, who had a key to his home, and his body was discovered.
According to the National Health Service in the UK, CTE or Chronic Traumatic Encephalopathy "is a progressive brain condition that's thought to be caused by repeated blows to the head and repeated episodes of concussion. It's particularly associated with contact sports, such as boxing or American football. Most of the available studies are based on ex-athletes."
The CTE Society explained that the condition has four stages. Stage 2, which  Thomas was in, has common symptoms of mood swings, depression, short-term memory loss and headaches. Less common symptoms include executive dysfunction disorder, suicidal thoughts, language and speech issues and impulsivity.