Report: Quavo, Offset Fight Backstage At Grammys
Quavo reportedly blocked Offset from being part of Sunday night's performance of 'Without You.'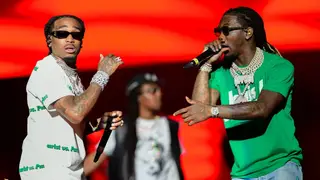 The tensions between Migos members Quavo and Offset boiled over last night, so much so that it allegedly resulted in a physical altercation between the two that had to be broken up, according to TMZ.
Sources at the show told the outlet that just before Quavo was set to take the stage to perform his song "Without You" as a tribute to Takeoff during the "In Memoriam" segment of the show, he and Offset got into a physical fight.
The cause of the altercation, according to sources, stemmed from the Grammys asking Offset to be a part of the tribute, but Quavo refused to let him take part. Subsequently, Quavo reportedly blocked Offset from joining him on stage. The latter was not who started the fight, according to the news outlet.
At the time of Takeoff's sudden and tragic killing last November, he and Quavo were really close and created music under the Unc and Phew moniker after Migos had broken up.
Those watching the Grammys Sunday noticed that it was only Quavo on-stage for the tribute, clearly signifying that there had not been a reconciliation between Quavo and Offset since Takeoff's death.