Adele Threatens To 'Kill' People Who Throw Items At Artists While They Perform
She's serious about this.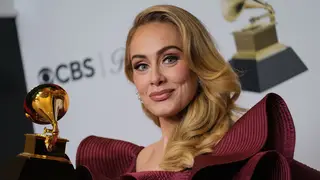 Artists want to feel safe when they're performing for their fans. However, Adele is going one step further to ensure things go smoothly when she's on stage.
During a recent residency show in Las Vegas, the London-born singer paused her performance to address item-throwing incidents affecting fellow musical artists.
"Have you noticed how people are like forgetting f*****g show etiquette at the moment, people just throwing s**t on stage have you seen them? I f*****g dare you to throw something at me, and I'll f*****g kill you," Adele said before firing off a t-shirt gun at the audience. "Stop throwing things at the artist when you can shoot it to people. [Laughs] I've been seeing these people, these people lost it."
Over the past few months, items thrown at performers have risen significantly. Lil Nas X, Bebe Rexha and Kelsea Ballerini have all had items thrown at them, with the latter even having to leave the stage to get stitches.