Lil Uzi Vert Credits Roc Nation CEO Desiree Perez For Helping Curb Addiction To Xanax
The Philadelphia rapper spent a seven-month stint in rehab.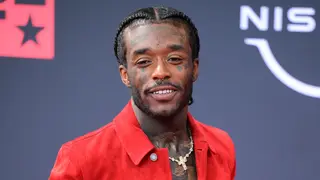 Lil Uzi Vert was recently the cover artist for the latest edition of the Berlin-based magazine 032c, and during the interview for it, the Philadelphia rapper went into great detail about a seven-month stay they did in a rehab facility that impacted their day-to-day life and art.
Uzi credits Roc Nation CEO Desiree Perez with helping them get the help they needed, primarily the rehab stay for a prior addiction to Xanax.
"I didn't want to do it, but I had to – and I can say now that it was a great thing to do," Uzi told writer Cassidy George. "I spent seven months in rehab. The first month and a half were hard, but after that, it was easy, because the people there became my family. They showed me so many different outlets and ways to cope with life."
During the interview, Lil Uzi Vert also discussed switching pronouns, which they said they needed clarification on.
"No, I never hesitated," Uzi explained when asked if they were reluctant to the declaration. "But I did take my time to learn as much as I could about this before I was able to proceed. Taking the time to figure out who you are is a big part of what it means to be alive. Once you figure out whether you're here with it, there with it, or both, you're not alone anymore. This community offers access to a certain kind of support that you might not have had [previously during] your entire life because you weren't raised that way. I come from a household where it's not okay to be 'non' anything."
This is just the latest public offering from Lil Uzi Vert. Earlier this week, the artist appeared surprised during Paramore's Madison Square Garden show, which is no surprise considering Uzi's admiration of Hayley Williams' work.
Read the full interview here.