Does LaVar Ball Got Game? Video Of Him Hooping Has Surfaced
He doesn't look like he's very good.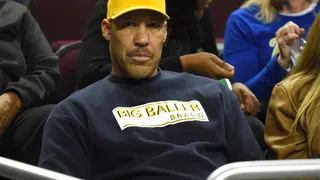 LaVar Ball has not given himself a lot of space when it comes to forgiveness, especially when he compares himself to Michael Jordan.
He's also said his sons are already better basketball players than reigning MVP Steph Curry. Well, one thing's becoming certain, when it comes to himself balling on the court, he's definitely no Michael.
Footage recently surfaced of the older Ball trying to ball, and it doesn't look like he's too good. In the video LaVar is wearing the number 8 in a rec league game. The video was uploaded by a YouTube user called The Hoops Column. It is heavily edited so it may have not shown some possible crossovers and long range drains. Probably not, though.
Past stats do support Ball not being so good. He only averaged over two points per game during his college days at Washington State. Usually, the guys who talk all the trash are the ones who aren't as good, especially on the pickup court.
Judge for yourself by checking out the video below.