Red Table Talk Wins First Emmy
Jada Pinkett Smith, Willow Smith, and Adrienne Banfield-Norris took to social media to celebrate.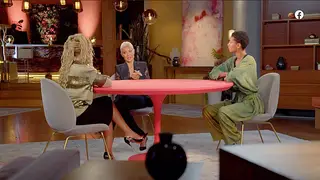 It's been three years since Red Table Talk aired its first episode on Facebook Watch. Now the co-hosts of the wildly popular series, Jada Pinkett Smith, Willow Smith, and Adrienne Banfield-Norris, are getting their well-deserved flowers. 
According to PEOPLE, the show was awarded a Daytime Emmy in the Outstanding Informative Talk Show category, beating out The 3rd Hour of Today; Good Morning America 3: What You Need To Know; Red Table Talk: The Estefans; and Tamron Hall.
After receiving the great news, the co-hosts, as well as family and friends, took to social media to celebrate. Pinkett was the first to announce the great news by posting the moment she found out about the win. 
As the announcement began to make waves across social media, more posts from the team began to circulate. Banfield-Harris posted a heartwarming thank you to her fellow co-hosts as well as the team and community that supports the show.
Pinkett's husband Will Smith also made a humorous post that celebrated Red Table Talk's Emmy win with a recording of the three generations of family dancing to the classic Green Velvet track, "It's Time 4 Da Percolator."
Since its debut in 2018, Red Table Talk has covered a wide variety of unique topics of the day and features a long list of celebrities including Snoop Dogg, Ayesha Curry, and Jordyn Woods. The show is currently in its fourth season, with recent episodes featuring Kevin Hart and Selma Hayek as guests.