Here's What Tiffany Haddish Had To Say About The Time She Had Dinner With Taylor Swift
Tay cooked soul food.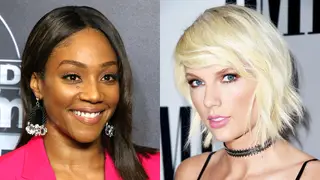 Never underestimate the power of a wacky Saturday Night Live host/musician combo. In a recent interview with Ellen Degeneres, female comic and Girls Trip star Tiffany Haddish revealed a hilarious anecdote about Taylor Swift, who performed on the same SNL episode she hosted — and she did not hold back.
Believe it or not, Haddish proposed having a potluck dinner with Swift under one condition (or three, rather): that Swift cook BBQ chicken, potato salad, and brisket. Haddish would contribute "Joyful Greens," her own special collard greens recipe made from greens grown in her own garden. Here's her special technique: smiling when she picks the greens, smiling when she washes the greens, smiling while she cuts them up, and smiling while she cooks them. Cheeky!
So just how did T. Swift's culinary skills stack up to Haddish's palate? Haddish had only praise for the pop star.
"Taylor can cook, OK?" Haddish declared. "Like the chicken was bomb. And she made cornbread. Bomb!"  
No word on whether any grapefruit-infused desserts were served.