Hip Hop Awards 2022: 3 Times a Female Emcee Earned the 'I Am Hip Hop' Award
These women proved they are the epitome of hip hop culture.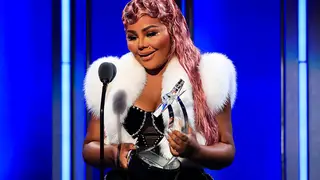 There are only three female acts ever to be awarded the "I Am Hip Hop" award, the prestigious lifetime achievement recognition given to artists who embody, through music, influence and what it means to be hip hop. Trailblazers and pioneers in their right. Each of these awardees all have, over their illustrious careers, proven to be exemplary figures of the culture. They join the likes of Grandmaster Flash, KRS-One, Russell Simmons, Rakim, and many more.
Ahead of this year's event, which is slated to be filled with tons of guest surprises, big wins, and even bigger performances, we're looking back at past winners and hosts and everything in between.  So keep reading to check out the only three females to earn the "I Am Hip Hop Award."
Salt-N-Pepa — 2010

The trailblazing girl group Salt-N-Pepa and DJ Spinderella accepted the "I  Am Hip Hop Icon Award" at the 2010 Hip Hop Awards hosted by comedian Mike Epps at the Atlanta Civic Center. Veteran comedian Mo'Nique presented the prestigious honor.

During their acceptance speech, Pepa shared, "This is very special to us because it's a hip hop award and because we came from a time when we was constantly asked the question, will hip-hop last? Well, I guess we can all say without a doubt hip-hop is here to stay."

Lil Kim — 2019

Hip Hop's Queen Bee accepted her well-deserved followers at the 2019 Hip Hop Awards as the year's recipient of the "I Am Hip Hop Award."  Lil Kim undoubtedly paved the way for generations of female emcees, such as Cardi B., Nicki Minaj, Megan Thee Stallion, and plenty more.

MC Lyte — 2013

While accepting the "I Am Hip Hop Award" at the 2013 Hip Hop Awards, the Brooklyn rapper, much like her music, called for unity and love. "Men, we are depending on you," she said. "We need you to protect us when no one will. So stop cursing us out all the time, okay? Find some love for us somewhere, God bless." then address women listening directly, stating that "And ladies, if you want to be treated like a queen, act like one."