Viral Video of a Woman Going Off on a Chick-fil-A Employee Over Cold Nuggets Has People Saying WTF
Many can't believe the unhappy customer acted so immaturely over some fast food.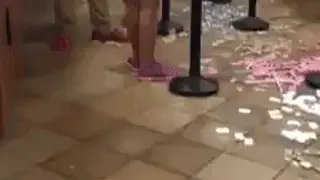 A viral video of two women trashing a Chick-fil-A in Jacksonville, Florida, has people everywhere shaking their heads. 
In her Facebook post, Music said that the incident began when a boy was acting unruly about a refund in the Chick-fil-A. As the situation escalated, the managers locked the doors and called the police. Although the restaurant was closed, two women managed to get inside and demand a refund over cold chicken nuggets. 
The women were presumably with the boy, who is not in the video, because one of the employees can be heard explaining she already gave the boy a cash refund. 
In the video, the women can be heard demanding a refund for the nuggets

As the women leave, they throw straws, utensils, and condiments all over the floor

In addition to posting the video, Music commented on the women's behavior and said they should be embarrassed. 

"There were kids at Chick-fil-A while this was going on and anyone should be embarrassed to act the way these two females did tonight. There were kids crying they were so scared. I hope you are satisfied with what you did, because I'm sure these kids will be scarred for life. You handled this situation the sorriest way a person could handle it. You are rude, you are a narcissist, and you shouldn't be proud of what you did. The only thing you accomplished was making a scene. Other than that you accomplished nothing," Music wrote. 

The Video, which has been shared nearly 4,000 times, has many people questioning how someone could act so childish

Many agreed that the women's behavior was out of line for a Chick-fil-A