NYT Columnist Charles Blow Says Son Was Held at Gunpoint by Yale Officer
New York Times columnist Charles Blow, in a series of tweets, says his son was held at gunpoint by a Yale University police officer.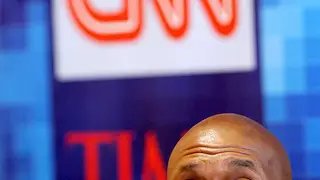 New York Times columnist and African-American author Charles Blow has penned in-depth pieces about race and social injustice, but he has recently found himself writing about a profiling incident that hit close to home. 
In his latest column, "Library Visit, Then Held at Gunpoint," Blow said his son, a third-year biology student at Yale University, was stopped by a campus police officer who pulled out a weapon on him.
Blow first revealed the events that left his son "shaken" in a series of tweets over the weekend.
"So, my son, a 3rd year [biology] major at Yale was just accosted - at GUN POINT - by a Yale policeman bc he 'fit the description' of a suspect," Blow tweeted Saturday. "He was let go when they realized he was a college student and not a criminal (he was leaving the library!) He's shaken, but I'm fuming!" he continued. 
Yale University issued an apology statement Monday saying that the incident should not be compared to "Ferguson, Staten Island or Cleveland" and that the officer was African-American. "Even though the officer's decision to stop and detain the student may have been reasonable, the fact that he drew his weapon during the stop requires a careful review," the statement continues. 

Blow says his son was leaving a campus library and walking back to his dorm room when he saw an officer jogging toward him. The student did not know he was being approached until the officer yelled for him to stop and then pointed his weapon at the young man.
He dropped down to his knees and raised his hands. He was then asked for ID. It was later found he "fit the description" of a burglary suspect. Blow said in his piece he does not have an issue with his son being stopped to ensure safety. But it was the manner in which he was stopped that upsets him. 

Blow writes:
Why was a gun drawn first? Why was he not immediately told why he was being detained? Why not ask for ID first?
What if my son had panicked under the stress, having never had a gun pointed at him before, and made what the officer considered a "suspicious" movement? Had I come close to losing him? Triggers cannot be unpulled. Bullets cannot be called back.


Follow Natelege Whaley on Twitter: @Natelege_.
BET National News - Keep up to date with breaking news stories from around the nation, including headlines from the hip hop and entertainment world. Click here to subscribe to our newsletter. 
(Photo: David S. Holloway/Getty Images for Turner)