Roseanne Barr Bizarrely Defends Racist Tweet Against Obama Aide: 'I Thought The B*tch Was White'
Just. Go. Away.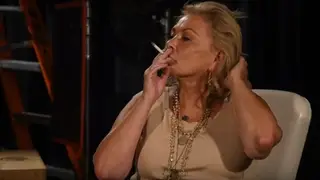 With each passing day, contrary to the wishes of the public, Roseanne Barr keeps showing that her racism runs deep.
Most recently, the canceled actress and comedian spoke out, yet again, about that infamous racially charged tweet she posted targeting president Obama's former aide Valerie Jarrett. This time, her words were much more unapologetic and downright disgusting — even for her standards.
In a video posted to her YouTube page, a noticeably disheveled and unkempt Barr, 65, while smoking a cigarette, spoke to a producer about a video that was fully edited. 
After releasing a pretty pronounced groan, a visibly aggravated Barr exploded on her interviewer, who asked about the now career-ending tweet she posted which saw her compare Jarrett to "a creation of the Muslim Brotherhood and 'Planet of the Apes.'"
"I'm trying to talk about Iran! I'm trying to talk about Valerie Jarrett about the Iran deal," she yelled. "That's what my tweet was about. I thought the b***h was white, goddammit. I though the b***h was white. F**k!"
Her jarring outburst comes a couple months after Hollywood turned its back on her and her "comeback," with her reboot getting canceled by ABC.
The network has since greenlit a 10-episode Connor family sitcom without Barr's involvement.
Take a look at the clip that saw her rear her ugly head once more, below: