White Teacher Placed On Leave After Telling Students To 'Turn The N****** Tunes Off' When They Listened To Tupac
Parents want Teddie Butcher removed from the school indefinitely.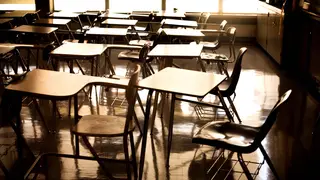 An Alabama high school teacher was placed on a paid administrative leave Monday after using a racial slur in front of students on Friday. 
According to students at Hoover High School, food and nutrition teacher Teddi Butcher stepped out of class for a moment and when she came back, several students were listening to Tupac Shakur's "Dear Mama," ninth-grader Toni Silas told the Hoover Sun.
Butcher, who is white, then told students to "Turn the n****r music off," Silas said. When some of the students did not respond, Butcher reportedly said the slur again, Silas said.
One student took a Snapchat video of a student expressing their upset with the word Butcher used and Butcher reportedly told the students they were overreacting.
After several students reported the incident, the teacher apologized to her class for the remark, Superintendent Kathy Murphy told the Hoover Sun.
However, some parents were not satisfied with her apology and the leave she was placed on. Silas' mother, Romel Williams, said Butcher should be fired.
"I think they need to set an example with her and let students know they are safe and they don't have to worry about derogatory comments or being belittled by their teacher with degrading words, and set a precedent for teachers in the school — that this is not acceptable behavior," Williams said.
Murphy is continuing to speak with students and parents about the incident as part of her investigation.
"Everybody is afforded due process, and due diligence will be done before any decision is made about this teacher," Murphy said.
"We hold our teachers and all of us to a higher standard," Murphy said. "We certainly expect all of our teachers, faculty and staff to treat children with all due respect, to treat them with dignity. It is most inappropriate and unprofessional to use racial slang or a slur or in any way embarrass or hurt children, and that's not something that I will stand for. I don't find it acceptable, and that's not who our school district is."