Steph 'Hair Lint' Curry And Draymond 'Wasn't A Scuffle' Green Trolled Hard By Drake In A Dell Curry Raptors Jersey
The battle between Toronto and Golden State happened on and off the court.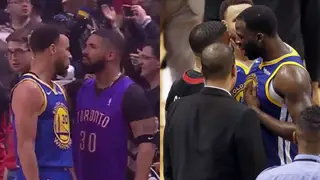 Game one of the NBA Finals truly did not disappoint. Although the matchup between the Golden State Warriors and the Toronto Raptors was extremely close — with the Raptors coming out on top 118-109 — it was the sideline antics between the Warriors' stars and Drake that stole the show.
Drake's first act of trolling happened when he walked on the court wearing Dell Curry's Raptors jersey, which coincidentally is also number 30

Then, during the game, Steph Curry and Drake appeared to exchange some light banter

Little did Steph know, Drake pulled out a piece of lint from the Warriors star's hair just to sell it on eBay under the username DraymondShouldntWear23

Drake's eBay username took a shot at Draymond Green, who wears the same number as other NBA legends such as Michael Jordan and LeBron James.

Hours after the game, people discovered the eBay listing was not only real, but it already reached a bid of $50,000

Draymond was also involved in a meme-worthy showdown with Drake right after the Raptors cinched a close victory

During the brief confrontation, Drake yelled the word "trash" at Draymond as he and Steph walked off the court.

After the game, a reporter asked Draymond about the "scuffle" and he quickly replied, "you got a question about basketball?"

"It wasn't really a scuffle, because I didn't hit him and he didn't hit me. I didn't push him, and he didn't push me. We talked. We barked a little bit, but I wouldn't necessarily consider that a scuffle," Draymond told the reporter.

The faceoff between the Warriors stars and Drake quickly became a trending a topic on Twitter

And most people agreed that Toronto won twice that night