#OnTheVerge: FLEE Is At The Forefront Of NYC's Freshest Sound
The Hollis, Queens native helped pioneer a new type of rap and is using it as an ode to everyone who inspires him.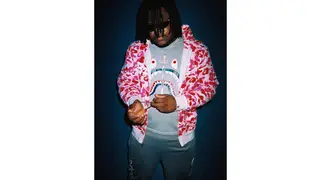 Intricate lyrics and an ear-catching flow keep FLEE's fanbase loyal, but it's also the authenticity he exudes in his music.
The Hollis, Queens native may only be in his late 20s, but he's inspired by the greats that owned his neighborhood during the late 80s and early 1990s, citing LL Cool J and groups like Run-DMC and A Tribe Called Quest. And while it may be hard to hear them play out in the type of music he makes, the energy those legendary artists had for their borough is again showing its face with FLEE.
That pride also extends into more modern artists like Nicki Minaj, whom FLEE pays tribute to on one of his latest singles, "NICKI." Over skirting drum patterns, he deploys his rapidly building lyrical pattern to spin tales that play as a metaphor of sorts to the fly women he encounters in his neighborhood. It all ties back to Queens, which he hopes makes a return to the hip-hop forefront, similar to how Brooklyn and The Bronx have over the past few years.
"I represent it because I feel like it's not as prominent in hip-hop as it's supposed to be. So I try to throw in Queens anytime I get a chance to swag it out type-s**t," FLEE told BET during a recent interview. "There's different s**t going on in New York."
Over the past few years, FLEE has been honing his craft. His unique sound has evolved from projects like Flee Going Stoopid, RatedStar and XOOL SUMMER, the latter of which took an unexpected turn during its creation. While recording the 2019-released effort, the Queens rapper attended a music video shoot for Brent Faiyaz. Not only did FLEE introduce himself at the gathering, but the singer revealed he was a fan of the artist himself.
"I'm saying what up to everybody and I just start talking to him, and he just started rapping lyrics to me from one of my songs," he explains. "So I'm like 'Oh s**t, you tapped in like, you f**k with me?' He was telling me he f**k with my s**t and I told him that I was working on my album. And I was like, 'Yo, bro, if anything, would you be on it?' And he was like, 'Hell yeah.'"
That collaboration became "SWISH/USE 2," the biggest song on XOOL SUMMER and FLEE's most streamed track to date, clocking over 13 million plays on Spotify.
In 2023, FLEE is looking to cash in on years of hard work and has become a pioneer and mainstay in the drill movement, currently catching heavy traction in the Big Apple. His forthcoming music is a prime example of this and a side of drill in some semblance of Brooklyn and Bronx versions but with far less aggression.
"I feel like we're just trying to bring something different, trying to bring some positivity and some sex to music and not make it so negative. It's not really like testosterone-y music," he explains. "We make certain s**t that ladies can vibe to, but also dudes can vibe to but it's very lady friendly. Even though the subject matter might be very misogynistic, everybody loves misogyny in they music. It engages them. Like wow, I can't believe you said that, that's crazy to say, but it's catchy. It feels good."
This plays out on FLEE's forthcoming album GHOST, especially the project's third single, "In This." Featuring frequent collaborator Cash Cobain, the song vividly describes scenes of debaucherous sex and the aftermath that results from it. GHOST is a triumph, layered with mystic synths, dark chords and the pitter-patter of New York drill's trademark sliding drums. It also further exemplifies FLEE's ability to be ahead of sound trends in NYC, similar to the pioneers he looks up to.
"I wanted to put out something that I hadn't really put out before. I wanted to try to put out a new style that other people ain't really tapping into, but it's just great sounds and not the standard trend that's going on," he says of the LP, slated for release later this month. "I'm not gonna say my s**t is off the wall artsy, but I feel like I do have my own individual sound. So that's how I wanted to put [this new music] together."