Beyoncé Drops 'RENAISSANCE WORLD TOUR' Dates
The time has officially come, get your coins ready!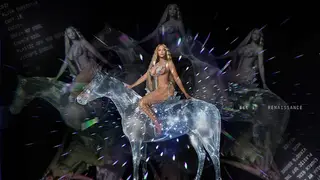 It's here! Beyoncé has officially released her RENAISSANCE WORLD TOUR dates after releasing the news on her Instagram account.
According to her website, the highly anticipated tour will begin in May at Friend Arena in Stockholm, Sweden before traveling through parts of Europe and eventually landing in the states in July.
Currently, the U.S. leg of the tour will hit Philadelphia, Nashville, Chicago, Washington, D.CAtlanta, Miami, Las Vegas, Dallas, Houston and several other cities before concluding at Caesars Superdome in New Orleans on Sept. 27.
Beyoncé's BeyGOOD initiative, which she started in 2013 to help people and programs around the world, will make an impact offstage, just like it did on her previous tours. BeyGOOD will continue its legacy of philanthropy and build on this focus on economic equity by giving scholarships, internships that lead to jobs, and resources to help people start their own businesses to organizations that help underserved and marginalized communities.
During the tour, BeyGOOD will help entrepreneurs in different cities with Black Parade Route luncheons that celebrate small business owners and offer grant opportunities and a range of services with global partners to help businesses stay in business. With a commitment of one million dollars, one thousand small businesses will be helped.
Ticketmaster's Verified Fan technology is used on the North American leg of the tour to make sure that more tickets get into the hands of concertgoers. Fans can sign up HERE. Tickets will go on sale starting Monday, February 6, 2023, but only BeyHive members will be able to buy them early.