You Won't Believe What Porn Star Farrah Abraham Said to Nicki Minaj
The Teen Mom OG took things too far.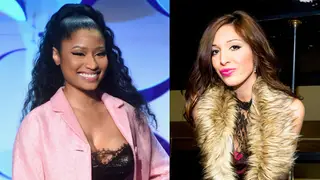 The whole "celebrities raising the world's children" debate has been going for years, and most recently, Teen Mom alum and porn star Farrah Abraham has chimed in, targeting Nicki Minaj, specifically, for her "uninspiring" ways.
According to Radar Online, it all started when Nicki criticized Abraham's parenting style and called her out for disrespecting her own mother, Debra. Of course, a tweet kicked off the feud, with the "Anaconda" rapper faulting Abraham's behavior on her show.
"Your mother didn't open her legs and have that child," the Minaj tweeted. "Be happy she's helping! Stop talking to her like that on tv u lil c**t @F1abraham."
The Teen Mom star clapped back, tweeting, "Cause your [sic] a parent right? Your videos look like porn. Horrible good luck being negative #Godbless busy making TV."
Unfortunately, the reality star didn't leave things there. She told TMZ that her daughter, Sophia, is no longer allowed to listen to or watch Nicki's videos because "they already have little girls asking for butt injections and wanting to color their hair crazy."
Ending the "argument," in poor taste, Abraham took things a bit too far when she said, "She's dead to me... that mess," before saying that the rapper needs to focus on her "rapist brother."
Speaking of Nicki Minaj, get up to speed on the Omeeka engagement rumors with BET Breaks, below:
BET.com is your No. 1 source for Black celebrity news, photos, exclusive videos and all the latest in the world of hip hop and R&B music. 
(Photos from left: Jamie McCarthy/Getty Images for Roc Nation, Steven Henry/Getty Images)