WWE Hall Of Fame Interviewer 'Mean' Gene Okerlund Dies At Age 76
Mean Gene was one of the few non-athletes to make a tremendous impact on the sport.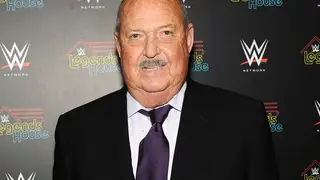 Iconic WWE interviewer and announcer "Mean" Gene Okerlund passed away at the age of 76, the WWE announced Wednesday. The Hall of Famer was responsible for some of the most remembered moments in wrestling history.
During his career, Okerlund delivered backstage interviews with Hulk Hogan, Ric Flair, Randy "Macho Man" Savage, Andre the Giant, the Ultimate Warrior and many other iconic wrestlers from the mid- to late-1980s. These moments between Okerlund and the wrestlers often paved the way for the athlete's most revered promos and catchphrases.
Okerlund developed an incredible on-screen relationship with Hulk Hogan, who started each interview with Okerlund by uttering the famous phrase, "Let me tell you something, Mean Gene."
Hogan, in addition to other famous wrestlers, delivered words of condolence for the passing of a legend.
"A voice and soundtrack to an entire era of our industry. He was the star of some of WWE's most memorable segments," WWE Executive Vice President Paul "Triple H" Levesque said on Twitter on Wednesday. "'Mean Gene' was beloved by all who got to work with him. Our thoughts are with his family at this difficult time."
Okerlund, who hailed from South Dakota, was also known for his unique mustache and charismatic voice. 
Okerlund was inducted into the WWE Hall of Fame in 2006, by Hogan. His last appearance at the WWE occurred in January 2018 on the 25th anniversary of "Monday Night Raw."