NeNe Leakes On Her 'RHOA' Future: 'The Show Has Gotten Very Nasty'
The Atlanta OG is still feeling some type of way over her treatment during the virtual reunion.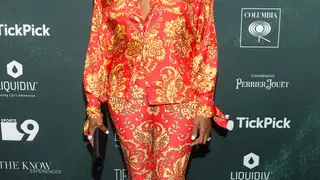 The final installment of the Real Housewives of Atlanta virtual reunion airs on Sunday. 
Although NeNe Leakes walked off during last week's episode and she will more than likely not appear in this week's show, she is still upset about the way she's been treated by the rest of the cast. 
On Wednesday (May 22), Leakes spoke with the Daily Pop and opened up about all of the reunion drama. 
Not only did she explain why she walked out twice, but she also threw some shade at her fellow housewives.
NeNe alleges that some of her co-stars had "twisted" former friend Yovanna Momplaisir's brain and "wanted her to turn against me."
"The whole reunion was about me! I was there from the moment it started to an hour and a half before it ended," Leakes told E!. "It only shows that, without me, they can only talk about me."
As to what drove her to leave the reunion twice? Leakes says the three hours of questioning were too much and she felt she was the only one receiving questions.
Regarding her drama with Kandi Burruss, NeNe says the Xscape singer has a "need to be number one."
"I was here first! This is a house that NeNe Leakes built," she said. "And so, she has to be number two. In fact, she's number three, 'cause Porsha will be number two."
As for the real question: Would she come back for another season of RHOA? Leakes seems to give the impression that she's fed up and that returning fully to the Bravo show may not happen.
"I don't know that. I never know, I quit every week," she revealed. "It's a very tough show to do. I personally feel that the show has gotten very nasty."
Part three of The Real Housewives of Atlanta Season 12 Reunion airs Sunday, May 24 at 8 p.m. EST on Bravo!