Unarmed Black Father Of 2 Fatally Shot 20 Times Because Police Thought His Cell Phone Was A Gun
22-year-old Stephon Clark was killed at his grandparent's home where he lived.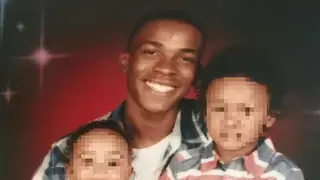 On Sunday evening, 22-year-old Stephon Clark was fatally shot by Sacramento Police while he held a cell phone in his hands that was mistaken for a weapon. 
At the time of the shooting, Clark was in the backyard of the home he shared with his grandparents and other relatives, Clark's brother told the Sacramento Bee.
The police department said officers were in the area responding to a report that someone was breaking car windows with a "toolbar."
Police arrived on foot a little after 9 p.m. on Sunday, while Sacramento County Sheriff's Department helicopter also flew overhead. Deputies in the helicopter reported seeing a Black man armed with a "tool bar" break a car window and flee to a nearby backyard. Officers were directed to the location, where they found Clark. 
When officers approached the father of two, they believed he was armed with a gun. Clark was holding only his cellphone when he was fatally shot Sunday night by two Sacramento police officers who fired at him 20 times, the department said Tuesday.
There was no gun retrieved at the scene.
Lashunda Britt, a cousin of Clark, said he was probably seen knocking on the window of the home to alert his grandfather to open the garage door. Clark's family said the doorbell to their home was broken and the family would often knock on the back window to enter the garage.
Mayor Darrell Steinberg on Tuesday said police Chief Daniel Hahn would expedite the release of video captured on body and dashboard cameras. Chandler said it would also include footage shot by sheriff's deputies from the helicopter. If so, it would be one of the first times Sheriff Scott Jones has agreed to release video.
Clark's family says he was a stay-at-home father of two young sons, ages 1 and 3.