Find Out Why 'You Got Served' Means So Much to Jaden Smith and Shameik Moore
Their new series 'The Get Down' makes the connection.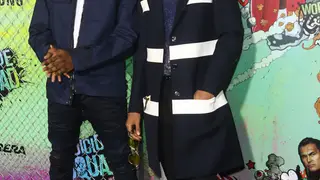 With the premiere of the new Netflix series The Get Down just around the corner, the cast sat down with BET.com to share a few details on the project and even dished on exactly when they fell in love with hip-hop, individually.
"I fell in love with hip-hop at 12," Shameik Moore said. "When I grew up, I was in a Christian school, a military school. Hip-hop music was like devil music, really, so I wasn't allowed to C-walk, a whole bunch of stuff."
The Dope actor then explained that it was a trip to see a particularly iconic film that changed everything for him: "My dad came back from tour, because he's a reggae musician, and I was saying things to him like that, so my dad took me to see the movie You Got Served," he said, "I went in there with my hands on my belly button, and I came out sagging. I started doing splits and stuff on the way to the car... Hip-hop took over me after I saw the movie."
Jaden Smith, whose father is had a respectable career as a hip-hop artist, then spoke on his experience, agreeing with Shameik's sentiment.
"I liked hip-hop before I saw You Got Served, but You Got Served is what got me into the culture of the dancing and the B-Boy steez of everything," he said.
With most of the stars of the show being Millennials, the stars also touched on just why this generation needs to watch the series.
"Kids nowadays, they need to know where all this got started," Jaden said. "They need to know how this all came about."
Watch the rest of the cast share their personal introductions to the hip-hop genre in the video, above, and watch the cast explain just why today's youth need to check out the series, here.
BET.com is your No. 1 source for Black celebrity news, photos, exclusive videos and all the latest in the world of hip hop and R&B music.