Kandi Burruss Gives Back To Community Supplying School Supplies For Families
The initiative was a collaborative effort with the actress' foundation 'Kandi Cares', Goodr, Nouveau, and Garner Trial Attorneys.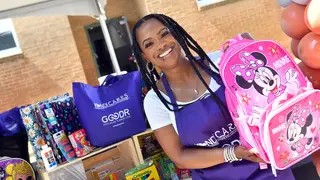 Kandi Burruss is giving back to the community as her foundation, Kandi Cares, provided 500 children school supplies at a back-to-school giveaway at the Jefferson Park Recreation Center in East Point on Saturday (July 29th).
The Real Housewives of Atlanta star collaborated with Goodr, Nouveaux, and Garner Trial Attorneys in order to support the effort to help families in need.
"With so much negativity in the world and the cost of living continuing to rise, we are delighted to spread some positivity and help the families within our community that desperately need it," said the actress.
"This initiative will provide single-parent homes with the necessities for all of their back-to-school needs."
Goodr CEO Jasmine Crowe shared single-parent families are a "uniquely vulnerable part of our communities."
"Even two-income households are struggling to provide anything above basic necessities right now so events like this are essential. Goodr is honored to partner with Kandi Cares again on such a vital initiative."