Deion Sanders Gets $1M From Pilar's Defamatory Child Abuse Tweets
Hall of Famer wins huge legal victory against his ex.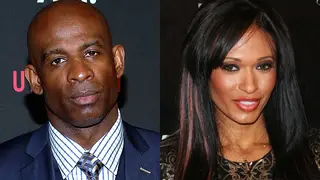 Pilar Sanders just can't score a win against her ex-husband Deion Sanders. She lost custody of their three children last year, and now her attempt to smear him for spousal and child abuse on social media has backfired — big time. 
After Pilar posted audio of his daughter saying her father "kicked" and "choked" one of his sons in 2014, the former NFL player had a temporary court order issued against his ex-wife and filed a lawsuit seeking millions in damages. 
Now, a judge has ruled in favor of Deion and gave him a $2.2 million judgement against his ex. That means Deion now owes Pilar zilch in their divorce, and in fact she owes him around $1 million. The Hall of Famer says he feles "relief and vindication" after the judgement... and we're guessing Pilar feels the opposite of that.
Deion and Pilar Sanders split in 2013 after fourteen years of marriage. The Hall of Famer and reality star is now dating Tracey Edmonds.
Custody battles are no joke. Check out the latest on Chris Brown's fight for Royalty, in the video:

(Photos from left: Brian Ach/Getty Images for AOL, Paul Archuleta/FilmMagic)

BET.com is your No. 1 source for Black celebrity news, photos, exclusive videos and all the latest in the world of hip hop and R&B music.