Gender Fluid Man Becomes No. 1 Ally to All Women by Carrying Tampons
And shuts down all period shaming in the process.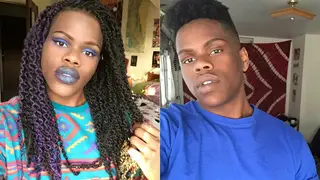 For those of us who know what it's like to get a period once a month, we also know what it's like to be left without a tampon. Oftentimes, an embarrassing search for someone who has a spare ensues.
Well, a gender-fluid, male born student at Occidental College, Chance Ward, has had enough of the inconvenience and the shame and has just changed the game for everyone. What makes him so special? He carries tampons, and he's proud of it. The other day, Chance posted on his Facebook page:
Although Chance identifies as a gender fluid person, he does not mention that as the reasoning for him carrying tampons in his bag. It's apparent that he has an honest intention of eliminating some of the stigma associated with menstruating.
After posting on his page, he received much love from women all over, including a shout-out from Nicki Minaj. He received so much positive attention that he wrote a follow up that basically says that although he is doing something amazing, there are organizations and others out there who are constantly trying to reduce the stigma surrounding the issue.
It's honestly no surprise that many people took notice of his amazing contribution; but it is surprising that his actions aren't more common among more men in general.
Menstruating is something that women are naturally forced to feel ashamed. Tampon companies are always trying to make their products smaller and more discreet, which ultimately makes women feel that they need to hide this experience, like a gross, embarrassing secret.
Well, thanks to Chance, the secret is out, and so is the shame.