'This Is The End For Me': Terrence Howard Announces Plans To Retire Again
Find out why the Academy Award-nominated actor is ready to call it quits for real this time.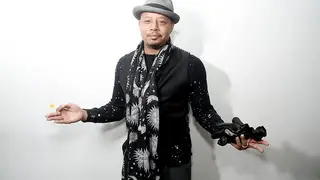 Saying he has "given the very best," Academy Award-nominated actor Terrence Howard announced plans this week to retire.
"I've gotten to the point where now I've given the very best that I have as an actor," he told Entertainment Weekly's Kevin Frazier Thursday (Dec. 8) during a red carpet appearance for the Peacock series The Best Man: The Final Chapters at the Hollywood Athletic Club in Los Angeles.
Howard, 53, has made the pronouncement before but says he is serious this time, noting that he is ready to pass the torch to a new generation.
 "I retired two years ago, for the most part," he told the entertainment news outlet. "I was done. ... I asked Sidney Poitier 10 years ago does he want to do any more work, and he said, 'Why would I spend my last 10 years doing an impersonation of myself?' And that's what I've gotten to."
Howard was nominated for Best Actor in 2006 for his role in Hustle & Flow. He made his big screen debut in 1992 as Jackie Jackson in The Jacksons: An American Dream. He went on to land appearances on the soap opera, All My Children, and in other films, including Mr. Holland's Opus, Dead Presidents, Who's the Man, and Four Brothers. Recently, he won praise for his role as Lucious Lyon on Empire, which ended after six seasons in 2020, the report notes.
The Best Man: Final Chapters premieres on Peacock Dec. 22.