'The Best Man: The Final Chapters' Adds Nicole Ari Parker, Ron Canada, and Tobias Truvillion
The series is set to premiere on Peacock soon.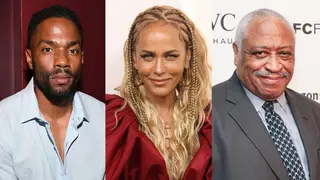 Your favorite squad is back and a few new faces are appearing to shake things up a bit (hopefully they won't end up in one of Harper's books).
The Best Man: Final Chapters is currently filming with with Regina Hall, Morris Chestnut, Melissa DeSouza, Taye Diggs, Nia Long, Terrence Howard, and Harold Perrineau, all set to reprise their roles as the characters we fell in love with since 1999.
In an interview with BET.com, Diggs shared the series will have "some makeups and some breakups," without giving us too much details.
Peacock has announced the gang will have some new additions this season as a few major guest stars are tapped to appear.
The series will see Nicole Ari Parker, Ron Canada, Brandon Victor Dixon, Michael Genet, Yvonna Pearson, Aaron Serotsky, Terrence Terrell, Tobias Truvillion and Eric Scott Ways as recurring guest stars.
Parker is tapped to play Xiomara Amani, a captivating, high profile, multi-hyphenate beauty who is sure to disrupt the dynamic of the Best Man crew.
Could be a potential feud with Shelby one may predict.
Canada (The Good Fight, Ted 2) will play Wellington, Quentin's (Terrence Howard) father. He is the patriarch of the family and is uncertain about relinquishing control of the family business to his son.
Dixon (Power, Jesus Christ Superstar Live!) will play Demetrius, West Coast chic and someone from Jordan's (Nia Long) past who has recently come back into her life.
Genet (Billions, Dr. Death) will play Dr. Temple, a professor at Fordham University. He's debonair, authoritative and friendlier than expected.
Pearson (Dynasty, Flatbush Misdemeanors, Pause With Sam Jay) will play Jasmine, who works at the island resort and takes care of the group during their stay.
Serotsky (Dopesick, The Survivor) will play Stan, a literary agent.
Terrell (Giants, B Positive) will play Will, who is handsome, charming and likes to flirt. He works in tech and is taking a much-needed island vacation.
Truvillion (Brooklyn's Finest, New Amsterdam) will play Jaha, a conscious urban farmer who sells produce at a farmer's market and works with many chefs.
Ways (City on a Hill, A Holiday in Harlem) will play LJ, Lance's (Morris Chestnut) son who is made in Lance's image. LJ is a football prodigy, but football isn't necessarily LJ's passion.
Malcolm D. Lee is set to write and executive produced the series, also direcitng four of the episodes with Robert Townsend (The Five Heartbeats) also tapped to direct.
It looks like the characters are going to have their hands full in the series… and we can't wait to see it.