2023 NAACP Image Awards: 7 Times Black Women Won 'Entertainer of the Year'
Some of these trailblazers won this award more than once.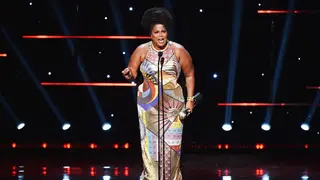 "Entertainer of the Year"  is one of the biggest honors a star can receive from the NAACP Image Awards for their efforts and contributions in the industry. Over the year, some of the biggest names in Hollywood have held the title, including DJ- Nice and Kevin Hart.
In this category, Black women have often showed up and showed out! As we prepare for the premiere of the 53rd Annual NAACP Image Awards, here's a look back at seven times a Black woman snatched the trophy for "Entertainer of the Year."
Dionne Warwick 1986

With over 50+ of her singles on the Hot 100 list, legendary soul singer, and former Goodwill Ambassador to the UN's Food and Agriculture Organization, Dionne Warwick took home the honors at the 19th annual ceremony.

Halle Berry 2000

Before Berry became one of the highest paying actresses in Hollywood, she rose to stardom by taking on minor roles in motion picture films and ultimately taking on the part of Storm in the Marvel X-Men movie series. Since then, she remains the only Black woman to win the Academy Award for Best Actress.

Taraji P. Henson 2015

Taraji P. Henson received the Entertainer of the Year award and the Outstanding Actress in a Motion Picture award at the 2015 NAACP Image Awards for outstanding achievement in the acting world.

Oprah Winfrey 1991

From becoming the first Black woman anchor news in Nashville, TN, to becoming CEO of her television network, Oprah boasts the title of being the "Queen of All Media."

Ava DuVernay 2018

Director Ava DuVernay received standing ovations for paving the way for Black women filmmakers by becoming the first Black woman to be nominated for many directing awards throughout her career.

Whitney Houston 1994 / 1995

From singing background to the first black teen woman on Seventeen's cover, singer-actress Whitney Houston was awarded the honors during the 27th and the 28th annual ceremony. She has been globally recognized and has become an inspiration to many worldwide.

Watch the NAACP Image Awards on Saturday, February 25, 2023, at 8/9c.