'Completely In Love': T.I. Pictured Holding Newborn Granddaughter
Zonnique Pullins welcomed a baby girl on December 15.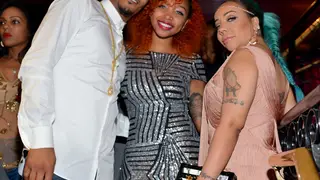 T.I. and Tiny Harris are both ecstatic about the birth of their first grandchild.
The Atlanta rapper posted an image of himself on Instagram while cradling his 24-year-old daughter Zonnique Pullins' baby girl.
"Completely In Love. We've been blessed beyond measure time & time again. God is The Greatest. Message to da young hittas from Big Papa Tip….Live to Get old….it's dope AF," he wrote next to the pic.
Tiny posted the same photo on her IG and said that T.I. slept with the baby on his chest the entire night.
"Came right in & took over!! They slept like this all night!! She's perfect in every way!! My baby @troubleman31 & Honey's…Honey bun.. In love," she captioned the picture.
In the photo, the three-week-old baby's face is turned away from the camera because Zonnique herself hasn't revealed her baby to the world yet. The new photo, however, does give fans an idea of what the little one looks like.
On January 7, Pullins shared a throwback pic of her holding her little sister Heiress Diana Harris when the now-4-year-old was just an infant. "Basically, me and my child lol," Zonnique wrote in the caption.
Congrats to the entire family, especially Zonnique! We can't wait to see more.