Update: Rick Ross Arrested on Kidnapping and Assault Charges
He was taken into custody this morning.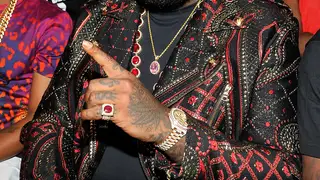 UPDATE: Billboard reports thar Ross was denied bail bond at Fayette County jail. They also have details on the arrest that happened on June 7, 2015.
As stated in the warrant provided to Billboard: "Subject did assault the victim, Jonathan Zamudio, (twice), with a handgun, specifically a Glock 17, 9mm, black in color, and in doing so caused two chipped teeth, jaw injury, neck injury, and multiple scratches and contusions. The victim lost the use of his jaw and is restricted to soft foods and liquid diet only as result of not being able to chew food." 
The second assault occured during the alleged kidnapping, where Ross is accused of using "a handgun and physical touching to force, against his will, Jonathan Zamudio into the residence (guest house)... where he was taken down a hallway, into a bedroom, and forced to remain."
PREVIOUS: Rick Ross is facing kidnapping and assault charges after an arrest was made outside of his mansion in Atlanta Wednesday morning.
The Associated Press reports a U.S. Marshals Service fugitive task force and deputies arrested Ross and his bodyguard. They were both taken into custody earlier today in Fayette County.
Jim Joyner, a supervisor with the Marshal's Southeast Regional Fugitive Task Force, says Ross is being held on charges of kidnapping, aggravated assault and aggravated battery. His bodyguard is facing the same charges. 
According to WSB-TV, sources say Ross was having work done at his property he bought in Fayette County when he got into a fight with one of the workers. He allegedly pistol-whipped him. TMZ is saying that the incident happened two weeks ago.
BET.com will keep you up-to-date as this story develops. 
Click here for a chance to win a girls' trip to Miami!

BET.com is your No. 1 source for Black celebrity news, photos, exclusive videos and all the latest in the world of hip hop and R&B music.

(Photo: David Becker/Getty Images for SHOWTIME SPORTS)