Break Up to Make Up: Guess Which Kardashian Is Reportedly Back With Their Ex
Their volatile relationship is back on.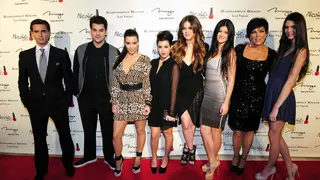 Keeping up with the Kardashians' dating lives is no easy task. With their penchant for breaking up and making up, we never know where the couples stand.
The latest to do a one-eighty on his love life is Rob Kardashian, who is reportedly reuniting with his baby's mother, Blac Chyna.
After the couple were spotted together at Disneyland (with their daughter, Dream Kardashian), TMZ reports that the former reality stars are back together "with a bang." According to the site, Rob showed up at Chyna's door last week and hasn't left her side since. What's more, the couple seem to be for real this time — no cameras were present to document their reunion.
The site adds, "Chyna dropped a ton of cash on gifts for Father's Day, including a Louis Vuitton bag, a customized Dodgers hat, sneakers and white and blue roses emblazoned with an R."
Hmm. Is this a trap that we're going to fall for yet again? Or are these two finally ready to work it out?
Look back at one of their many splits with BET Breaks, above.