Trevor Noah to Host 2023 Grammy Awards for Third Year in a Row
The comedian and LL Cool J are the only celebs to host the award show for three consecutive years.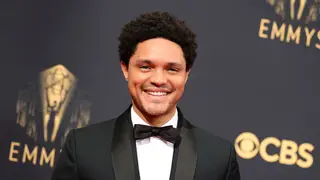 Although he recently ended his seven-year stint as the host of The Daily Show, Trevor Noah isn't putting the microphone down anytime soon. The 38-year-old comedian confirmed to Billboard that he will host the 65th annual Grammy Awards in 2023.
Noah will be hosting for the third consecutive time—tying him with rapper LL Cool J who has also hosted three times in a row. "I don't think it's normal to host it once, so I don't have a great frame of reference for this. It is thrilling. For me, it's a cheat code because I'm a fan of almost all the people who are there. It has also been interesting because of the journey," Noah said.
He added, "The first one was [during] COVID-19, and it was a completely different way to make the show. And then the next one was in Las Vegas because of the restrictions [in Los Angeles], and that was a different type of show. Now it's exciting [because] it'll be the first one for me back in L.A. — that's hopefully not just normal, but different for the right reasons."
Noah told Billboard that his hosting style for music's biggest night is "off the cuff" and that he has some input into the production which is headed up by television producer Ben Winston. "We're always thinking of new ideas, coming up with different moments — him proposing the genesis of the idea and then me figuring out how to take it somewhere else or [vice versa]. I am lucky that there are some moments where I go, "This was a seed that germinated in my head, and we grew it into something that ended up being on the show."
In addition to his hosting duties, in January, Noah will be headed out on a new world tour doing stand-up with shows planned in 28 U.S. cities and stops in Europe and South Africa.
"I'm enjoying the fact that we're juggling flaming swords," Noah told Billboard of his experience hosting the GRAMMYs. "Just putting it all together, combining different genres, getting the musicians in sync with each other and the audience, keeping the audience in tune with what's happening. One of my favorite things about the GRAMMYs as a whole is it is one of the few places where you get to experience artists in their rawest element, which is performing their music live … there's nothing like it. You develop a deep appreciation for what these people are doing beyond just the music that they make."
Beyoncé is currently leading the pack for nominations this year, and her album Renaissance earned her nine nominations. She has now tied her with husband JAY-Z for most-nominated artist of all time, with 88 each.
Per People, The "Break My Soul" singer's nominations include Record of the Year, Album of the Year, and Song of the Year. Kendrick Lamar follows with eight nominations, while Adele and Brandi Carlile earned seven each. Mary J. Blige, DJ Khaled, Future, The-Dream, Randy Merrill, and Harry Styles each garnered six noms.